Return to Headlines
West Orange Public School District Names Dr. J. Scott Cascone New Superintendent of Schools
West Orange Public School District Names
Dr. J. Scott Cascone New Superintendent of Schools
Former Executive Director of Academics at Old Bridge Township Schools to take over top position in district with vision of building upon strong academics, celebrating diversity, and rebuilding trust within the community.
July 10, 2019 -- (West Orange, NJ) -- After a comprehensive multi-month search, the West Orange Board of Education announced today the unanimous appointment of Dr. J. Scott Cascone as the new Superintendent of Schools for the West Orange Public School District. Cascone will take over the top position at the 6,700+ student school district officially on July 15, 2019.
Cascone brings to West Orange more than two decades of experience in the field of education, spanning all facets of the industry including: classroom teaching, on the field coaching, department supervision, building administration, and central office administration. Most recently, Cascone served as Executive Director of Academics at Old Bridge Township Schools, overseeing all curriculum, instruction, and assessments for the 8,000 student district. Under his leadership, AP and SAT participation and performance increased, and Old Bridge High School produced its highest scores in district history, consistently out-performing state and national averages.
Cascone assumed multiple leadership roles throughout his career, including Department Supervisor of Social Studies, World Languages, and ESL; Director of Personnel and Special Projects at the Westwood Public Schools; and Principal of Westwood Regional Junior and Senior High School. At Westwood High School, Cascone raised college admissions to its highest rate in 10 years and boosted AP student participation by 30%.
Cascone is a trailblazer; creating and leading the development of several innovative programs and initiatives including a "Parent University" providing classes to assist parents in supporting their children; "Project Unify," a partnership with the Special Olympics fostering the inclusion of special needs students in sports, leadership, classes and clubs; and a "Kids to College" initiative exposing 4th graders to 18 local colleges and universities and a myriad of career paths.
Dr. Cascone is a regular educational contributor on LinkedIn and has written several publications for the New Jersey Principals and Supervisors Association (NJPSA) on topics including: Parental Perception of ESL, Education Compliance and Best Practices, and Technology's Place in Today's Education. He is an active member of the ASCD (Association for Supervision and Curriculum Development), the NJPSA (NJ Principals and Supervisors Association), and has served on the Curriculum Councils in Middlesex and Monmouth Counties.
Dr. Cascone is proudly bi-lingual (English/Spanish) and has taught ESL (English as a Second Language and Spanish) in both the U.S. and Costa Rica. In 2014, he was named an honorary Latino American Who's Who, a publication that selects and distinguishes leading Latino professionals throughout the world, who have attained a recognizable degree of success in their field and contribute to the growth of their industry and culture.
"I am eager to become part of this amazing community," said Cascone. "The opportunity to bring my skill sets and passion to a district of this stature is captivating. I'm looking forward to meeting, listening, and working with the staff, students, and community members as we take West Orange Public Schools into the next successful phase of their already-impressive journey."
Cascone received his Doctorate of Education in Educational Leadership, Management, and Policy from Seton Hall University, his Master of Arts in Teaching and Second Language Acquisition from Fairleigh Dickinson University, and Bachelor of Arts in International Affairs and Minors in Latin American Studies and English from George Washington University.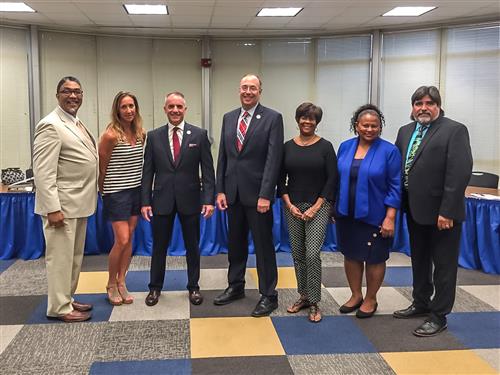 (L-R) BOE Members: Mark Robertson, Cheryl Merklinger; New Superintendent Dr. J. Scott Cascone;
BOE Members Ken Alper, Sandra Mordecai; Business Administrator John Calavano
"The West Orange Board of Education is beyond excited to bring Dr. Cascone's wisdom and forward-thinking approach to our district. Dr. Cascone is exactly what our district needs to drive our academic performance, successfully enhance our communication practices, and reinforce trust within the community," said BOE President Ken Alper. "He is a proven diversified leader who understands the needs of all student groups, including those who excel, those with special needs, all those in the middle, and those who speak one of the 48+ languages spoken at home in our district."
Dr. Cascone enjoys spending time with his wife and daughters, coaching soccer and serving his church as an ordained altar server.
For additional information on Dr. Cascone, please go to www.woboe.org/superintendent
To request interviews with Dr. Cascone or BOE members, please email ccumming@westorangeschools.org
###
About West Orange Public Schools
The West Orange Public School District has been educating students since 1895 when Washington Elementary School opened its doors. Today, the district boasts twelve extraordinary schools: One preschool, The Betty Maddalena Early Learning Center; and seven traditional neighborhood elementary schools, all including full-day kindergarten. Elementary students move on to an innovative Central Sixth middle school. Two seventh and eighth grade middle schools prepare students for high school, providing a wide range of academics, foreign language studies, and extracurricular activities. West Orange High School boasts a state-of-the-art campus, and offers award-winning athletics, music, clubs, theater and STEM programs that prepare students for a variety of 21st century opportunities, choices and expectations both socially and academically. For more info, www.woboe.org