WEST ORANGE, NJ – CNN reporter Gary Tuchman visited Roosevelt Middle School seventh graders in Josh Goldfarb's social studies class on Oct. 26 to film a segment that will appear on "Anderson Cooper 360" on Oct. 28. The segment revolves around the presidential election and features students from two states, one expected to vote Democratic and the other Republican.
Roosevelt was selected as the school from the "blue" state of New Jersey. Tuchman will also interview students from a middle school in Kentucky, a "red" state, to examine the potential differences in viewpoint.
"We selected your class because your teacher is the best of the best," said Tuchman of Goldfarb. For the past several weeks the students have been researching the election in class and online.
The crew filmed the students in a paper ballot vote. Clinton won handily, with 17 votes to Trump's 3 and Gary Johnson's 2. Students offered reasons for their votes, which included Clinton's experience and qualifications and Trump changing his stance on previous issues. While they felt it would not be a bad idea to have an experienced businessman in office, they were not convinced it should be Trump.
Next, students went online to vote in the mock election available to middle and high school students in the district's Google program. (Each student has their own email and middle and high schools utilize Google Docs and Google Drive for interactive learning and collaboration.) Goldfarb discussed different types of voting options like early voting and absentee ballots.
Goldfarb worked with the students on the SmartBoard to review current projected Electoral College votes and to theorize on campaign strategies for both Clinton and Trump as they work to gain the votes needed to be elected. (Clinton was in the lead, with 258 projected votes to Trump's 157.)
As of Oct. 26, Clinton led in the online vote at Roosevelt with 152 votes, Trump 16, Johnson 12 and Jill Stein 5. While Clinton was the clear winner in the mock election, the students felt that the actual vote on Nov. 8 would be much closer in the national election.
Tuchman asked the class a series of questions towards the end of class that included whether or not Clinton's qualifications to be elected were "good or bad experiences," and what do you think about Trump's campaign slogan "Make America great again." All students felt that the election has been "rude and obnoxious," and many of the students watched the debates.
Several students felt that during the debates, Trump offered few solutions to the issues. And for most of the class, they felt that America was already great, and were not sure why Trump would presume it was not, or that it was better before.
The class unanimously raised their hands when Tuchman asked if they thought Hillary Clinton would win the election, even those who had voted for Trump. In closing, Tuchman asked the students if they would be involved in their communities as they got older, the answer was a resounding "yes."
The segment is scheduled to air on "Anderson Cooper 360" on CNN Friday, Oct. 28 between 8-10 pm barring breaking news.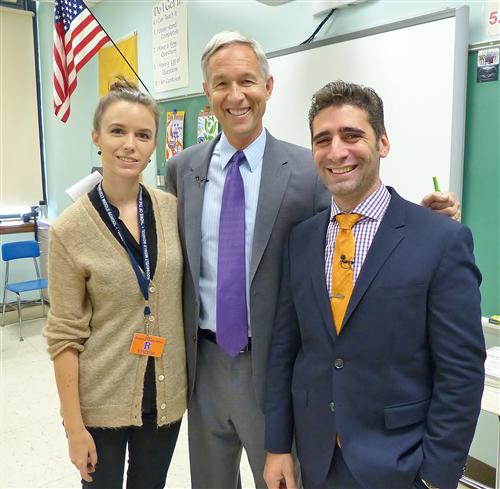 Diane Laposta and Gary Tuchman of CNN with RMS Social Studies teacher Josh Goldfarb.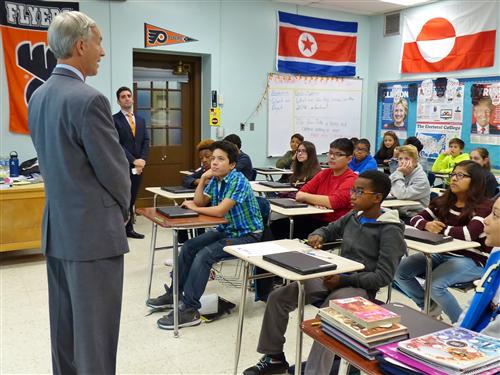 Tuchman speaks to the class.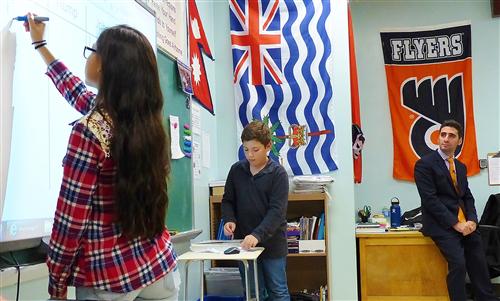 Students work on the SmartBoard with Goldfarb.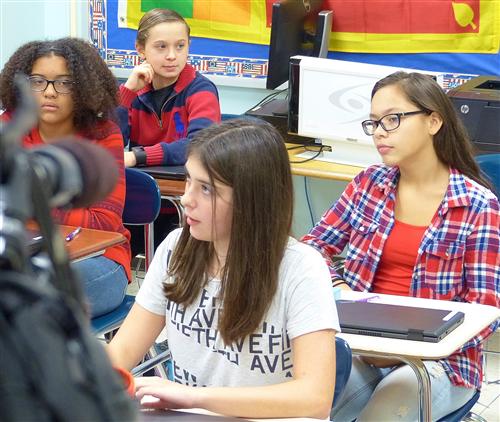 Students discuss ballot.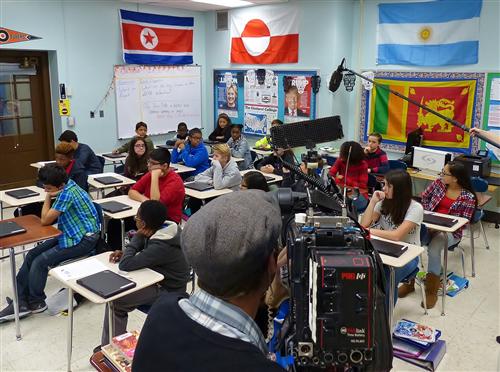 Overview of classroom during filming.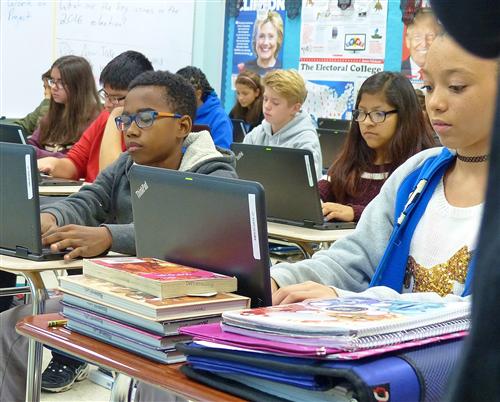 Students vote in the online poll.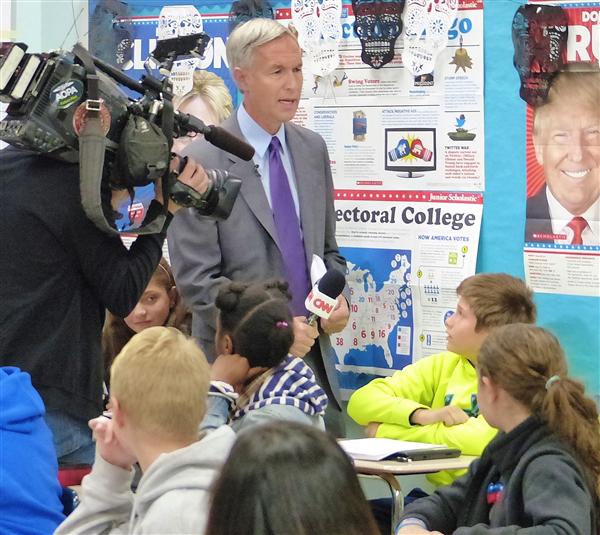 Tuchman interviews students.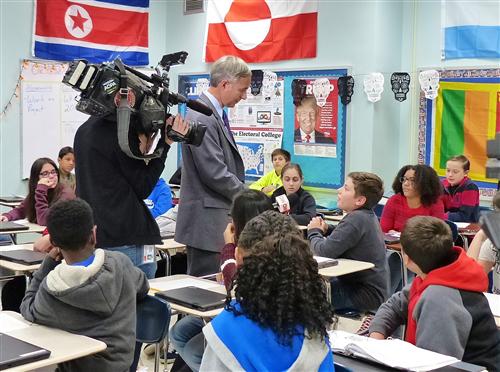 Tuchman interviews students.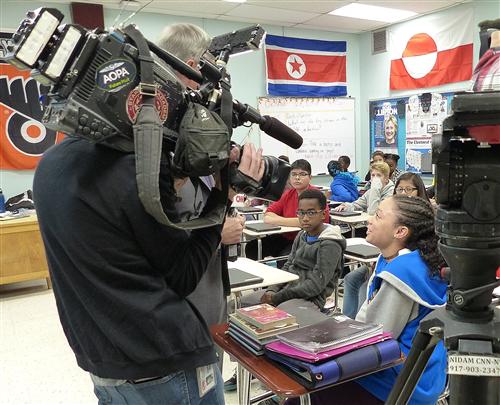 Tuchman interviews students.
Students raise their hands to say they want to be involv
ed in their communities.
Watch the actual segment as it appeared on "Anderson Cooper 360"
here
.