Return to Headlines
Liberty Middle School Graduates 279
WEST ORANGE, NJ - Liberty Middle School graduated 279 eighth grade students on June 20, marking an important transition in their lives.
Principal Robert Klempt and Assistant Principal Michelle Martino greeted a capacity crowd at West Orange High School for the ceremony. Klemt then addressed families and students in his commencement speech.
"Good evening and welcome to our graduation ceremony as we celebrate the completion of your middle school years! It is also my privilege to stand before this eighth grade class one final time to highlight some of your accomplishments and to provide some words of encouragement. Before I begin my remarks let me acknowledge our guests. Two that were not able to join us but earned our thanks are Acting Superintendent of Schools Mrs. deMendez and Acting Assistant Superintendent Mrs. Veneziano for their ongoing support throughout the year. Our district faced leadership changes this year with our Central Office staff continuing to support our school needs.
Thanks also to our Board of Education and our Mayor, the Honorable Robert Parisi. The mayor is very supportive of our school and the district and each year recognizes a Liberty Student with the West Orange Community Service Mayor's Award which I will present a little later in the program. Welcome and thank you to my outstanding Assistant Principal, Mrs. Martino seated on stage and participating in her last ceremony as she moves on to her own Principalship next year outside of West Orange. This district has been her home for the past 17 years, so let's give her a round of applause for her dedication to our West Orange students.
Thanks to our exceptional eighth grade staff who are assisting the ceremony today. Great credit goes to these dedicated teachers along with the seventh grade staff who have provided the learning and guidance that places you on the path for success in high school. Special thanks to our grade level Counselor Mrs. Volpe, also seated on stage who has closely assisted each of our graduates and parents these past two years. A very warm welcome to our parents, grandparents, siblings and friends whose equal support deserves recognition for reaching this special moment. And to the most important group in the auditorium, let's give a warm welcome and applaud our 279 graduating eighth graders.
Ceremonies such as this provide an opportunity to reflect on achievements and memories from the past years. Personally it has been very rewarding watching each of you interact in class and learn, all have matured and grown socially, and all have accomplished so much – whether that's earning Honor Roll grades, serving on our Student Council, helping your sports team to victory, or one of the many students recognized at our academic and related arts Awards assembly yesterday morning. Additionally, it was very gratifying seeing how all of you became involved in our school community, something our staff continually encouraged.
Many watched or were involved in the February Talent Show, the April Science night was an amazing showcase of student ingenuity, many participated in the play Beauty and the Beast in May, and so many were active in after-school clubs - including those clubs that provided Community Service to places like the Hillside Food Bank or those who entertained West Orange senior citizens, even others participated in the recent Pajama Party for our elementary students or the orchestra performing at Whole Foods back in December. Other students were involved in our 10 sports teams and were very successful as a result of the athletic ability in this graduating class, and so many participated in the various school spirit events, such as Character Day and monthly Advisory activities and contests. And for those lucky students who were part of the Snow-vember sleepover that was an event to remember and has its own 2-page layout in our yearbook! I would encourage each of you to continue involvement in school and service activities during the next four years.
Competing on any of the 20 or so sports teams West Orange High offers, being active in ROTC events, joining the Marching Band or Step Teams, or participating in the wide range of after school clubs would certainly enrich your high school experience and expand your circle of friends. As I further reflect on your achievements, I am amazed at the daily rigor we threw your way with over 50 per cent of this class consistently recognized at our Honor Roll bagel breakfasts each marking period.
Let me throw one more stat at you, our 96 per cent monthly attendance average also reflects your commitment and connections to our school, parents you definitely take credit for this as well. Keep in mind high school adds that critical attendance component so attending every class each day is necessary to earn credit. Keep the patterns of showing up every day the same as you showed our Liberty staff.
So as I finish my remarks I encourage you to work hard in high school and remember that you're investing in your future with every test you take and every project you complete. High school will provide many great moments as you meet new teachers, meet new coaches and Club advisors, you will reconnect with friends from Roosevelt and you will build upon your interests and your skills. Finally, it is my hope you leave Liberty with a deep appreciation of your teachers efforts and the time spent with us the past two years. Enjoy your summer months and for those attending WOHS in September, you will be in the caring hands of an outstanding and dynamic school leader, Principal Moore, who will welcome you next. On behalf of the entire staff, we wish the Liberty Class of 2019 congratulations and best wishes in the years to follow!"
West Orange High School Principal Hayden Moore stepped on stage next to welcome incoming freshmen.
"Here at West Orange High School our core mission is to encourage our Mountaineer students to climb towards Academic excellence.
But in addition to your academic studies, we also urge all students to become involved in high school life. That simply means join clubs and teams and just make some everlasting friendships and memories.
I look forward to greeting you in September as your principal and to our next four years together. Best wishes to the graduating Class of 2019, and the future high school graduating Class of 2023."
A performance by the band under the direction of Ryan Krewer of "Remember Me," from "Coco," followed. Klemt and Martino then announced the Liberty Awards of Distinction.
West Orange Community Service Mayor's Award: Isabella Davis
Liberty Award of Distinction: Sophia Bennett and Richard James Tibang
Creative Achievement Awards: Taylor Frederic (essay), Summer Washington (poem), Jack Harwood (poem).
Former Liberty Student Council President and current WOHS student Christyne Corasmin welcomed the class to the high school, and Eighth grade Student Counselor Lauren Volpe recognized students receiving Presidential Award for Educational Achievement (all As and Bs) and the Presidential Award for Educational Excellence (all As).
Graduates then received their diplomas, exiting the stage as incoming freshmen to the strains of "Pomp and Circumstance."
See all the photos from the Liberty Middle School graduation here.
See the list of Presidential Educational Achievement recipients here.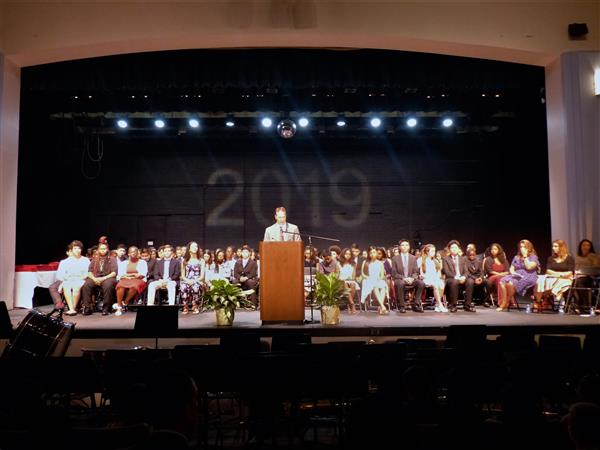 Principal Bob Klemt delivers his Commencement Speech.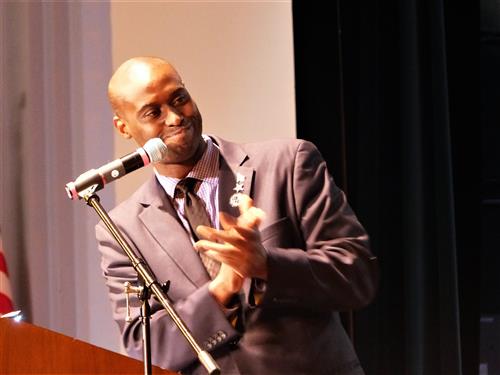 WOHS Principal Hayden Moore welcomes incoming freshmen.
"Remember Me"
Cynthia Cumming
June 23, 2019