Return to Headlines
Lavish Production of "Beauty and the Beast Jr." Premieres at Liberty Middle School
WEST ORANGE, NJ – The annual spring musical at Liberty Middle School, "Beauty and the Beast Jr., " is a lavish production that stuns visually and vocally.
Translating an animated Disney film into a live-action stage musical was daunting enough when it premiered on Broadway in 1993, but the cast and crew at Liberty Middle School have magically teamed to pull off a lush, broad, and satisfying Jr. version that impresses on both visual and emotional levels.
To mount a sweeping production with a large cast, multiple scenery changes, beloved music, and a well-known plot definitely requires a village. From director Lissette Villalobos, musical director Ryan Krewer, choreographer Kim Carrisimo, sound and lighting by Lauren Grof-Tisza, and an incredible set design by Villalobos, Bernie and Joshua Reger, and the stage crew, this testimony to teamwork was true to the movie and musical.
Riley Hahn as Belle brings the delicacy and strength required for the lead character. Jonathan Vincent as the Beast is believable and engaging as he learns that love is unselfish.
"Beauty and Beast" was filled with humor, and the cast rises to the occasion.
Jack Harwood as Gaston, Paige Palent as Lefou, and Joshua Reger as Maurice, Belle's father, lead the comic antics among the townspeople.
James Tibang as Lumiere and Ezra Simon as Cogsworth shine, clearly enjoying their roles. Svara Bhatnagar as Mrs. Potts and Charlotte Lewis as Chip add to the castle family, along with Magdaly Cordero (Madame De La Grande Bouche) and Trynity MatosJames (Babette). Theatergoers will find themselves endeared to the whole cast.
The hardworking ensemble does not stop, portraying townsfolk, spoons, forks, plates, and anything else required to make the show sparkle.
Advance tickets are $10 for adults and $6 for Senior Citizens and students. Purchase advance tickets here. All tickets at the door are $12.00.
Performances begin 7:00 pm on May 2 and 3 and at 1:00 on May 4. Liberty Middle School is located at 1 Kelly Drive.
See the playbill and read about the cast and crew here.
See all the photos from Beauty and the Beast Jr. here.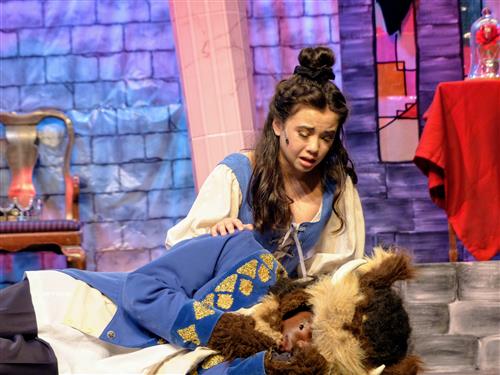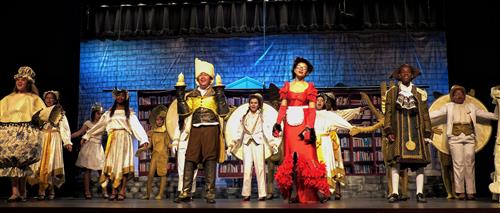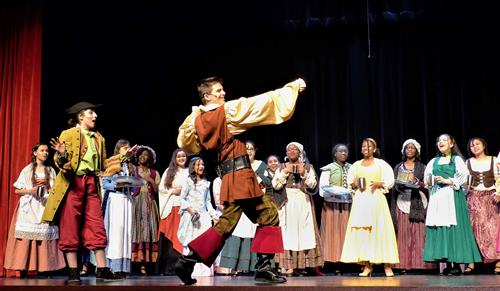 "Gaston"
"Be Our Guest"
Cynthia Cumming
May 2, 2019