Return to Headlines
Arbor Day Ceremony at Liberty Middle School Remembers Beloved Teacher
WEST ORANGE, NJ - Beloved Liberty Middle School Science Teacher Sue Zaccaro was remembered and honored with the planting of a Japanese Lilac tree at the West Orange Township Arbor Day Ceremony on April 12. The ceremony was held at Liberty Middle School.
Zaccaro passed away on June 30, 2018, after a long battle with cancer. She was a "force of nature," as described by Liberty Middle School Principal Bob Klemt.
An after-school ceremony on April 11 allowed students and staff to honor Zaccaro .
"Sue was always welcoming to our students and coming up with innovative projects," he continued. "It's nice to see the sun has come out to shine down on us - just like Sue."
"Sue was on the cutting edge of the new Science standards before it was even a thing," noted Science Supervisor Stephanie Suriano, "and if I needed to train new science staff, I sent them to her."
"I learned a long time ago to just stay out of her way," Suriano laughed.
Members of Zaccaro's family: her husband, Mark Mochan, daughter Jackie, and grandson Ryan were present for the touching ceremony that also featured comments from current and former Student Council Presidents Maura Baker and Soham Bhatnagar.
The April 12 township ceremony featured the dedication of the Japanese Lilac Tree in the courtyard outside Zaccaro's eighth grade Science classroom. Mayor Rob Parisi, Councilwomen Sue McCartney and Michelle Casalino, Assistant DPW Director Nick Salese, Forester John Linson, WOEC Chairman Mike Brick, and members of the West Orange Environmental Commission attended the ceremony.
LMS Science teacher Vince DeJesus worked with Zaccaro for many years.
"I could hear from Sue at any time, and there were four words I always dreaded the most," said DeJesus. "The call usually came around 7:00 am. and then I would hear the words 'I have an idea."
Christina Faust, newly-appointed Science teacher, shared their plans for the courtyard, where they hope to plant pollinator gardens to parallel those at The Rock (located across the street from the Recycling Center), and add other related environmental components.
Forester John Linson dedicated the tree, also recognizing West Orange as a long-time Tree City, USA. Councilwoman Sue McCartney presented the annual "Heart of Green" award to DPW employee Mike Elifani.
At the base of the tree is a plaque dedicated to Zaccaro that reads:
In Loving Memory of Susan Zaccaro
Teacher, Mentor, Friend
28 Years of Service to West Orange Students
Every day in some small way
Memories of you come our way
Though absent, you're always near
Still missed, loved and always dear.
See the photos from the Arbor Day ceremonies here.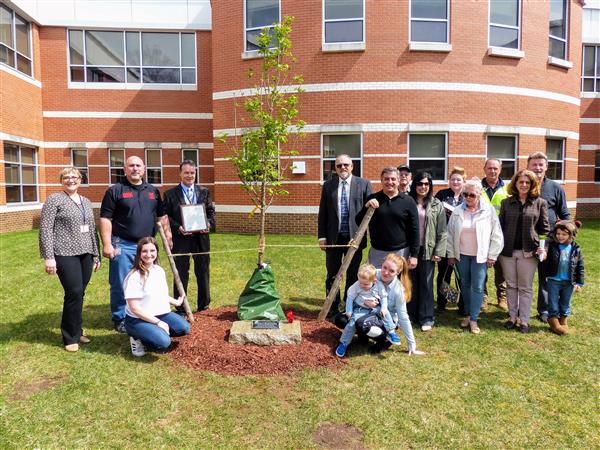 (Kneeling) Ashley David, Ryan Zaccaro-Benson and Jacki Zaccaro. Rear, (L-R) WOEC Cynthia Cumming, Vince DeJesus, Bob Klemt, John Linson, Mayor Rob Parisi, WOEC Mike Brick, Christina Faust, WOEC Linda Stiles, Mike Elifani, Susan McCartney, Nick Salese, grandson.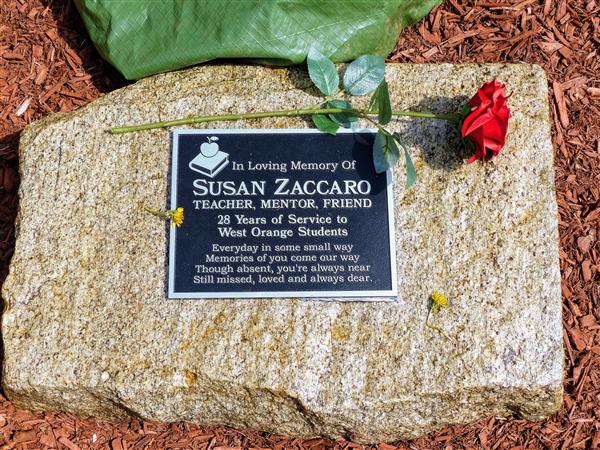 Cynthia Cumming
April 18, 2019