Return to Headlines
Music Faculty Scholarship Concert Features Mix of Musical Styles and Talent
WEST ORANGE, NJ – The 18th Annual West Orange Music Faculty Scholarship Concert once again featured the top-notch talents of the staff in a variety of musical styles, and spotlighted the up-and-coming jazz pianist Isaiah Thompson. Vocal Music Director at West Orange High School, John Hellyer, served as Master of Ceremonies.
Thompson, who attended West Orange Schools through eighth grade, went Montclair Kimberly Academy and is currently a senior at Julliard. His innate ability to capture the nuances of jazz at such a young age have landed him opportunities across the country, including the Grammy Foundation's Jazz Sessions Camp, the 2015 GRAMMY Jazz Combo, and the Jazz at Lincoln Center's (JALC) 2015 inaugural Summer Jazz Academy by Wynton Marsalis.
Isaiah was a jazz piano winner for the National YoungArts Foundation and the recipient of the Horace Parlan Talent Award in Copenhagen. He has traveled multiple times to Switzerland to perform in the Bern Jazz Festival, and to Bolivia and Peru with Julliard. He is already touring and plays regularly at various clubs in New York City. Expect to hear a lot more about Isaiah and his career in the coming years.
Several students from West Orange High School stopped by to perform selections from the Spring Musical, "Mamma Mia!"
John Hellyer (WOHS), Patrick McLaughlin (Roosevelt), and newcomer Craig Sanphy (LMS) offered their vocal talents on songs like "Crying," "You'll Be Back," "I Chose Right," and "King of the World."
Ryan Krewer (LMS) and Dave Rimelis (LMS) arranged several of the songs, and Roger Bryson (RMS) sang and performed on saxophone for "Can't Take My Eyes Off of You," dedicating it to his wife.
Lew Kelly and Josh Zimmer (WOHS) dueted on a classical trombone piece, "Fantasia No. 2," and Rimelis, Betsy Maliszewski (Washington, Gregory, Mt. Pleasant), Francesco Composto (Redwood), and Angel Liu Edison) performed a medley from "La La Land."
Andrea Rommel (Redwood), Erin Lagatic (WOHS), Marissa Gerin (Gregory), and music faculty alum Jim Robinson performed "Quintet in B-flat major," with accompaniment from pianist David Maiullo.
The finale featured Thompson and the Scholarship Faculty Big Band on "Naughty Sweet Blues," "All of Me," Blues on the Triple" (composed by Thompson), and "Higher Ground."
Monies raised from the concert will go towards scholarships for graduating seniors seeking to pursue a career in the music field.
See all the photos from the Music Faculty concert here.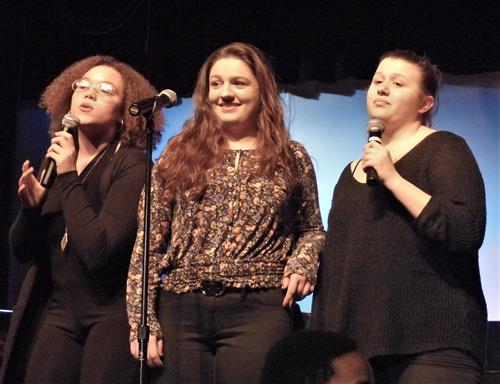 WOHS students perform "Dancing Queen."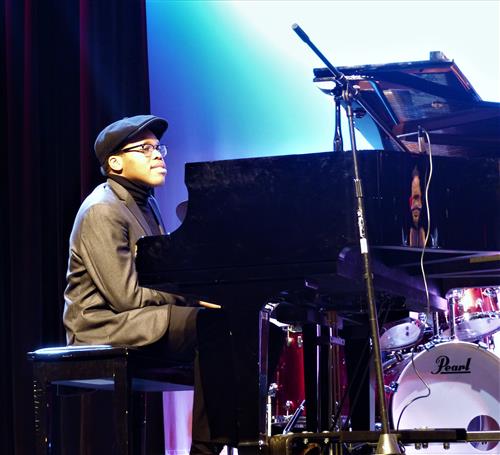 Isaiah Thompson.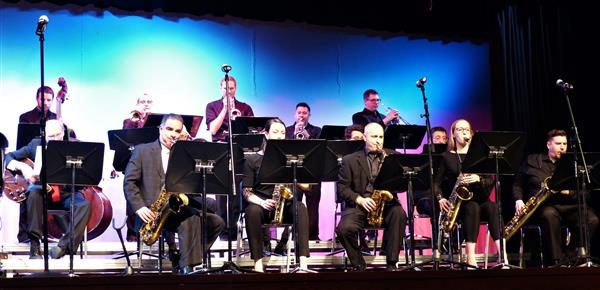 The West Orange Music Faculty Big Band.
See the program for more information.
See a video clip from the concert below.