WEST ORANGE, NJ - Students in the Eighth Grade Science Honors program at Liberty Middle School participated in the World Climate Change Negotiations Simulation on Dec. 8. To date, this interactive, role-playing exercise of the United Nations climate change negotiations for groups has held 564 events in 67 countries with 28,658 participants.
The simulation uses an interactive computer model to rapidly analyze the results of the mock-negotiations during the event. Most simulations run 2-3 hours.
Seventh grade students Brianna Dannemiller and Wilnica Destine participated in and wrote an article for the school paper, the Liberty Ledger. Their article appears below.
The World Climate Change Negotiations Simulation
The Eighth-grade honors science classes participated in The World Climate Change Negotiation Simulation. This is an activity that promotes climate change awareness and enables students to experience some of the dynamics that emerge in the UN climate negotiations.
The climate negations were held at Liberty Middle School on December 8, 2016. Students were assigned roles in the six regions: The US, European Union, Other Developing Countries, Other Developed Nations, China, India, climate activists (or tree huggers as Mr. Todd puts it) and the press corp. These students had to study their roles and become the representative for that country.
The climate negotiations also had presenters who helped the with the climate negotiations: The United Nations Secretary-General, Mr. Todd; Dr. DeJesus, Chief Climatologist for the UN; Ms. Zaccaro, Executive Secretary of the UN Convention of Climate Change, Dr. Pankaj Lal Associate Professor, Environmental Economics and Policy Associate Director, PSEG Institute of Sustainability Studies at Montclair State University.
The honors science classes discussed how climate change was affecting their region, based on how they live. Then they discussed ways to lower the numbers and reduce climate change to benefit us in the future. There was three segments so that the regions can modify what they had or leave it the same to reach their goal. They could make deals to help their region. (USA got a lot of hate on that and other things too.) They entered their negation deals in interactive C-ROADS computer simulation which allows students to find out how their climate negotiations impact the global climate system in real-time.
The United Nations Secretary General, Mr. Todd congratulated the nations for coming together to reach an agreement on how to change climate change.
"What planet will you leave for the future?" he asked.
To see the pdf of the Liberty Ledger with the article, interviews, and photos, go
here
.
To find out more about the Climate Change Negotiations Simulation, go
here
.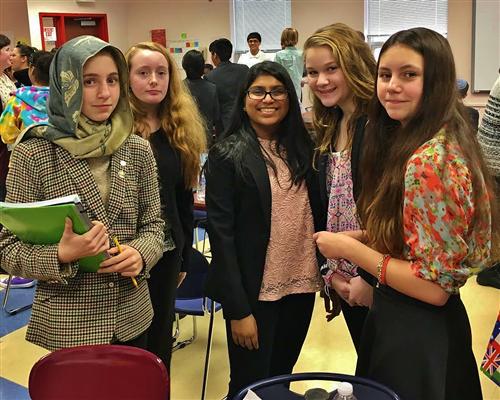 Students at the World Climate Change Negotiations Simulation.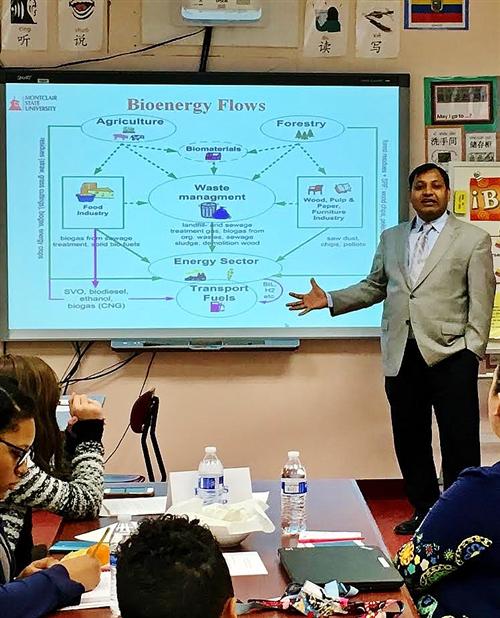 Dr. Pankaj Lal of MSU speaks to students.