Return to Headlines
"Willy Wonka Jr." a Sweet Surprise at Edison Middle School
WEST ORANGE, NJ - The Edison Middle School Drama Club will be presenting "Willy Wonka Jr." on April 20 and 21 beginning at 7:00 pm, and it is a family-friendly sweet treat that should not be missed.
The West Orange School District is committed to the Arts: voice, music, and dance, and the community should be proud to know that middle school students take their craft very seriously. Following on heels of the High School's production of "In the Heights," Edison takes on Roald Dahl and Willy Wonka in a lively version that features the well-known "Pure Imagination" and "The Candy Man."
Aficionados will appreciate the message that character traits like kindness, honesty, and positivity are recognized and acknowledged in today's world, while self-centeredness can get you into all sorts of trouble.
It will be fun to see what these up-and-coming performers will be doing once they get to the high school. Let's hope they stick with it and develop their talents, which are already evident.
"Willy Wonka Jr." was directed by Molly Eisen, with Musical Direction by Bonnie Pomeroy and Set Design by Melanie Racanelli. Tickets are $5.00 at the door both evenings.
The talented cast and crew are listed below.
See all the photos from the Dress Rehearsal here.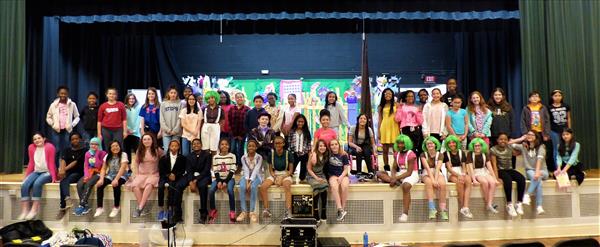 Cast and Crew Members of Willy Wonka Jr.
Cast
Willy Wonka/Candy Man……………………………..Sean Harrington
Oompa Loompa 1……………………………….Dylan Suriano-Garland
Oompa Loompa 2…………………………………………..Makayla Opoku
Oompa Loompa 3………………………………………………….Rosie Slaten
Oompa Loompa 4………………………………………..Alaina Kelly-Terry
Oompa Loompa 5…………………………………………..Nakhayla Green
Oompa Loompa 6…………………………………………..Mikayla Nathan
Oompa Loompa 7……………………………………….Justice Cillo Smith
Charlie Bucket……………………………………………………..Sophia Jacob
Mrs. Bucket……………………………………………………….Sophia Rowan
Mr. Bucket…………………………………………………………….Reed Kibutu
Grandma Josephina……………………………………….Joelle Robertson
Grandma Georgina………………………………………….Alicia Germain
Grandpa George…………………………………………………..Joshua Elgin
Grandpa Joe………………………………………………………….Cal Redwine
Phineous Trout………………………………………………..Olivia Lambert
Augustus Gloop………………………………………………….Takara Byrum
Mrs. Gloop……………………………………………………….Kayla McDaniel
Veruca Salt………………………………………….Avery Suriano-Garland
Mr. Salt…………………………………………………………….Greggory Davis
Violet Beauregarde………………………………………..Svara Bhatnager
Mrs. Beauregarde……………………………………………….Reign Bracey
Mike Teavee………………………………………………………….Kirsten Coxe
Ms. Teavee…………………………………………………………….Zoe Perlman
Ensemble……………………………………………..Madison Abdus Sabur
Ensemble…………………………………………………………….Brooke Davis
Ensemble……………………………………………………..Hannah Florendo
Ensemble……………………………………………….Christina ParionaOre
Stage Managers
Daniella Charro
Dorinda Destine
Brielle Grant
Olivia Raymond
Crew
| | | |
| --- | --- | --- |
| Alexa Alfonso | Oluoma Ejiofor | Sam Selikoff |
| Amie Binan | Janiya Knox | Chloe Zucker |
| Amaya Fields | Tatiana Lopez | Jordan Bond |
| Elisa Gomes | Emily Olson | Elliot Morely |
| Vanisha Janaki | Claudia Rodgers | Andrea Cob |
| Faarah Rexach-Peters | Lucy Fishkin | Ciera Edwards |
| Yairibel Fernandez | Kiara Govea | Isoka Foreman |
| Mikela Dare | Jayden Honeyghan | Jessica Montoya |
| Esosa Obasuyi | Allyssa Jules | Gabriel Santos |
| Ogechi Udechukwu | Josephine Locricchio | Jacqueline Aguilar |
| Mary Dixon | Gianella Penaranda | Sarah Attomante |
| Ijeome Ejiofor | Taniya Riley | Madison Cyrus |
| Daniell Daley | Sherrie Mousa | Yanessa Gonzalez |
| Leila Smith | Dayana Matamoros | Chadalya Paul |
| Jasmin Minchala | Sophie Winters | |
| | | |
Cynthia Cumming
April 17, 2018