Return to Headlines
Betty Maddalena Early Learning Center Holds Open House
WEST ORANGE, NJ – The West Orange School District held an Open House at the new Betty Maddalena Early Learning Center for incoming parents and students on Aug. 30, offering the opportunity for parents to view the new classrooms. School begins on Sept. 6 and the new preschool will be open and ready for its students as they follow an elementary school schedule.
The pre-school program has been relocated in its entirety within the Life Christian Church at 747 Northfield Avenue, and will utilize space originally constructed for a church pre-school. That afforded the school district with the unique opportunity to lease space that was in move-in condition.
The multi-purpose room was filled with parents, guardians and students as the Superintendent and administrative staff reviewed basics for the first week of school, including the school calendar, lunch, busing, security, and health/immunizations.
Superintendent Jeff Rutzky, Board of Education President Sandra Mordecai, Principal Connie Salimbeno, Acting Interim Director of Special Services Kristin Gogerty, Kelly Elementary School Principal Dr. Joanne Pollara, and pre-school administrative support staff were present to welcome parents and students, answer questions, and take families on a tour of the new facilities.
"Our teachers have been working day and night to set up their classrooms this week," began Superintendent Rutzky, "and our staff is to be commended for all the work they have put into setting up the beautiful classrooms you are about to see."
"I am extremely grateful for the opportunity given to me by Superintendent Rutzky and members of the Board of Education," said Salimbeno.
"In addition to our teachers, related service providers, my administrative assistant Rosa Valencia and school nurse Linda Connelly-Schoner, the district tech team and Buildings and Grounds Department have worked tirelessly to prepare for our students," she continued.
Betty Maddalena was a very special person," Dr. Pollara told families as she described the beloved educator.
"She loved the beach, she loved to teach, and she loved her students," she continued, "and even when she got sick with cancer, she continued to work up until the very end."
Betty Maddalena was the Director of Special Services in the West Orange School District from 2008-2011, capping off a storied 33-year career in education that included recognition in 2006 from then-Governor Jon Corzine with New Jersey's first Educator Medal of Honor Award. Upon her passing in 2011, Connie Salimbeno was named the Director of Special Services, a move she attributed to Maddalena's mentorship and support.
"I would not be here today without the love and support of Betty Maddalena," stated Salimbeno.
Interim Special Services Director Kristin Gogerty described the "Tools of the Mind" curriculum they would be using, including the "mystery question of the day" and the importance of play in student development.
The LLD (Learning/Language Disabilities) programs previously located at Redwood (Grades 3-5), Gregory (K-5) and Kelly (K-5) will all be located at Kelly Elementary School. This year, those classes will be single-graded and not multi-graded.
Tours of the new facility commenced and the new facility (including six classrooms, a Child Study team office, Principal's Office, Occupational Therapy and Speech Offices, a multipurpose area, and outdoor area) were a hit with young and old alike. Families returned to the multipurpose area where a question and answer period ended the evening.
Back to School Night at the Betty Maddalena Early Learning Center will held Sept. 28 beginning at 7:00 pm. A special event honoring Ms. Maddalena is being planned for sometime in October.
"This is our opportunity to develop a program solely centered on our youngest learners," concluded Salimbeno, "and I am looking forward to partnering with our families and amazing staff on this new journey."
To see all the photos from the Open House, go here.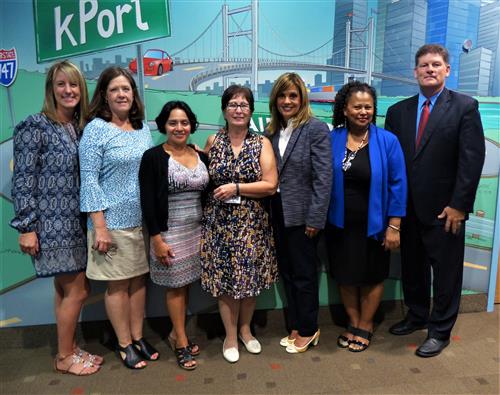 (L-R) Kristen Gogerty, Linda Connolly-Scholer, Rosa Valencia, Dr. Joanne Pollara, Connie Salimbeno, Sandra Mordecai and Jeff Rutzky.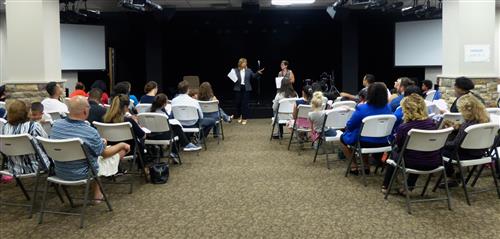 The multi-purpose room is filled with parents.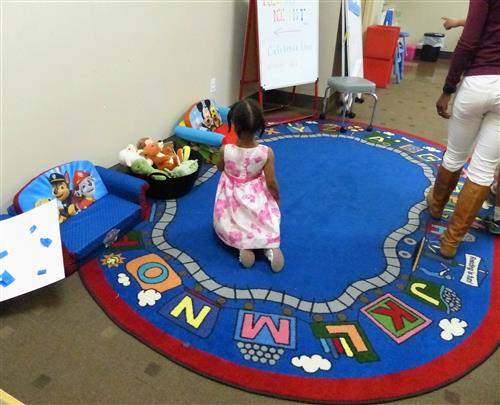 An excited toddler plays with toys.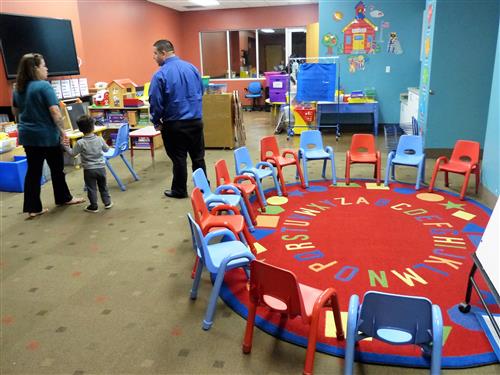 Classroom.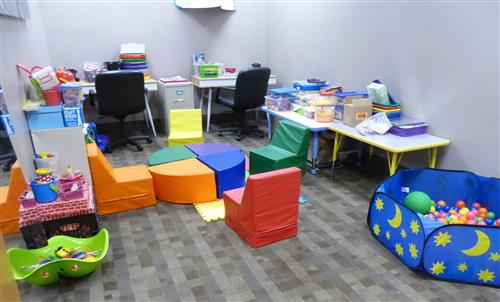 Occupational Therapy Room.