Return to Headlines
Recognitions Highlight Final West Orange School District Meeting of the Year
WEST ORANGE, NJ - Educators, administrators, and students were recognized for their unique accomplishments during the final West Orange Board of Education meeting of the year on Dec. 21.
Executive Director of Personnel and Special Projects Dr. Joseph Vespignani opened the evening by discussing the newly reinstituted Governor's Educator of the Year Program.
Dr. Vespignani introduced the principals of all West Orange Schools, who then named their Teacher of the Year, and in some cases, their Educational Services Professional.
According to the website, "The New Jersey Teacher of the Year Program and the Governor's Teacher/Educational Services Professionals Recognition Program have been integrated into the Governor's Educator of the Year Program. This updated program highlights educational innovation, student achievement, the rewards of teaching, and important services outside the classroom environment that lead to student success. Further, it seeks to attract public attention to the positive aspects of our educational system."
| | | | |
| --- | --- | --- | --- |
| School | Principal | Teacher of the Year | Educational Services Professional |
| Betty Maddalena Early Learning Center | Connie Salimbeno | Lauren Kenny | Linda Connelly Schoner |
| Gregory Elementary | Makeida Estupinan | Caitlin Portuese | Kathleen Kelly |
| Hazel Elementary | Ana Marti | Jason Roberts | |
| Kelly Elementary | Joel Castillo | Amy Pacifico | Nancy Feldman |
| Mt. Pleasant Elementary | Julie DiGiacomo | Diana Ferrera | |
| Redwood | Timothy Beaumont | Teresita Bradley | Lesley Giglio |
| St. Cloud Elementary | Eric Price | Robin Berkowitz | Shena Brown |
| Washington Elementary | Marie DeMaio | Linda Perna | |
| Edison Middle School | Xavier Fitzgerald | Pam Romanchuk | Arturo Rodriguez |
| Liberty Middle School | Bob Klempt | Daniel Krayton | |
| Roosevelt Middle School | Lionel Hush | Tracy Gordon | Suzanne Lee |
| West Orange HS | Hayden Moore | Catherine Connors | |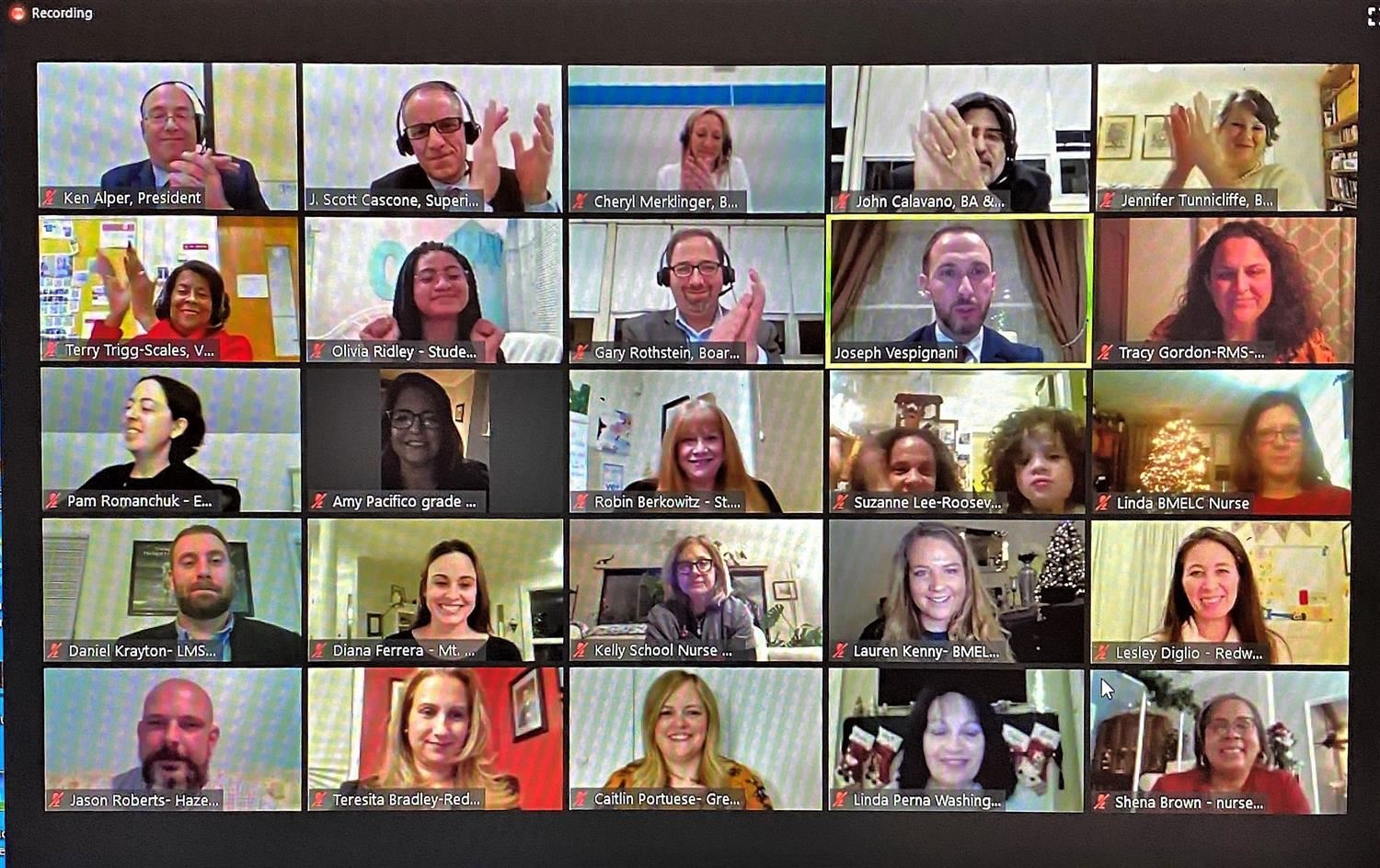 These teachers are now eligible for consideration for the Essex County Teacher of the Year Award, given in the Spring.
Outgoing Board President Ken Alper was recognized with two plaques for his past three years on the board, two of which he served as President.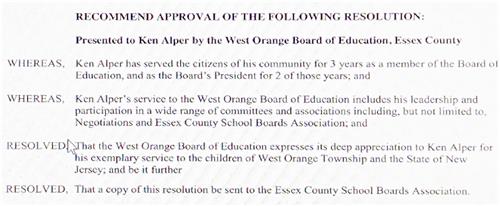 In addition to Alper's recognition, Superintendent Scott Cascone recognized several recent achievements of district employees and students:
Liberty Middle School teacher Maria David
WOHS seniors Olivia Ridley and Riya Goel
The superintendent also thanked members of the district and community for their work over the past few months during the pandemic.
Dr. Cascone noted,
"I am reminded of the quote, "Most of the important things in the world have been accomplished by people who have kept on trying when there seemed to be no hope at all." (Dale Carnegie).
"We have stayed together as a community, and our community has shown its true colors," he concluded as he wished the community a happy holiday.
Cynthia Cumming
Dec. 21, 2020