Return to Headlines
Kelly "Full STEAM Ahead Day" Honors Kelly Brothers
WEST ORANGE, NJ - Kelly Elementary School held its first-ever "Full STEAM Ahead Day" on May 25, dedicating it to West Orange astronauts Mark and Scott Kelly, school namesakes.
Students in grades K-5 teamed up to explore different types of STEAM hands-on activities and challenges.
Kindergarten students read "The Marshmallow Incident" about a town that is separated by a line dividing right and left. Students found ways to bypass the line and integrate the town. Other Kindergarten students read "Ten Apples Up" and worked in small groups to see who could create the tallest apple tower.
First grade students teamed up with students in fifth grade on six STEAM stations. The two grades worked together to build standing towers out of toothpicks, gumdrops, and cups, make an iMovie trailer, and programmed a "Dash the Robot" station. One fifth grade class created a Rube Goldberg type contraption to demonstrate a chain reaction.
Second grade students studied buoyancy and density by learning how to make things stay afloat featuring the "Gummy saver" and Curious George after reading "Curious George the Boat Show."
Third grade students presented a collection of five engineering challenges to created different rockets, each one tested for distance.
Fourth grade students constructed bridges to withstand specific amounts of weight as well as houses that would withstand a tornado.
As a special bonus, students teamed up to create a miniature golf course to be enjoyed by students and visitors alike.
Students are already looking forward to what they'll be creating next year.
See all the photos from "Full STEAM Ahead Day" here.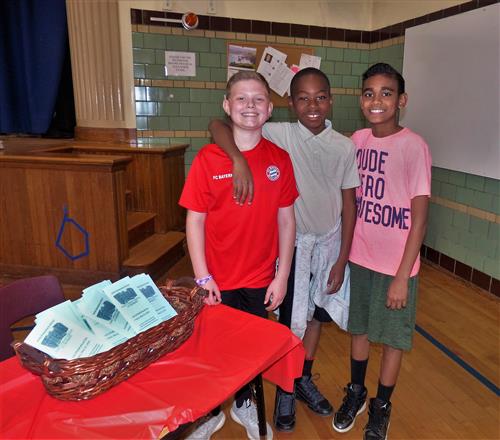 Fifth grade students welcome visitors.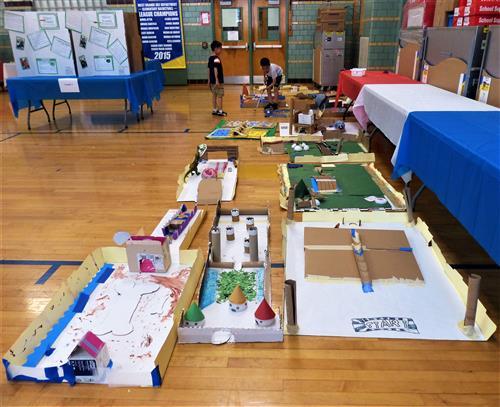 Miniature golf course.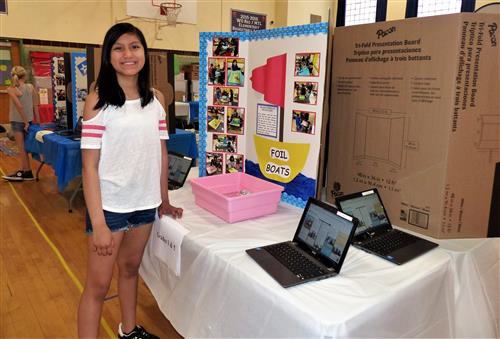 Student with her project.
Cynthia Cumming
June 3, 2018