Return to Headlines
Annual Kelly Elementary Fifth Grade International Lunch Celebrates Diversity
WEST ORANGE, NJ – The annual Kelly Elementary Fifth Grade International Lunch was held on Dec. 14, much to the delight of students, parents and teachers.
"What a wonderful way to celebrate our Annual International Luncheon," began Principal Dr. Joanne Pollara.
"I would like to commend our fifth grade teachers, Amy Pacifico, Anthony Carsillo, Kelly Clancy, Patty Quinn, Nick Salese, our Paraprofessionals and our music teacher Debbie Rees. Your dedication to our students and commitment to celebrating the richness of our diversity made this event possible."
West Orange is already rich in culture and diversity, boasting at least fifty nationalities among its residents. Several songs and dances were performed by the students as an homage to some of those cultures, including "Cantar" and "Hands Across the Ocean". "Hands Across the Ocean" was sung along with "Tumbalalaika," a Russian folk song. "Cantar" was sung in Spanish and featured percussion.
"The students performed a total of nine songs, including "MacNamara's Band" (Ireland), "Ocho Kandelikas" (Ladino) and the Kelly Elementary Alma Mater, which represented our shared culture," said music teacher Deborah Rees.
A standout performance of "Adios Amor" was sung by Pablo Araceo, who brought cheers from the audience.
"Thank you, parents for actively participating in this event by preparing delicious foods from many cultures which we are about to share," continued Dr. Pollara.
"To our fifth graders… music transforms us. It has the ability to bring us back to a specific moment in our lives. Your music is no exception. Through your music and dance you have touched the hearts of all of us and filled our buckets to the brim."
"Maya Angelou, a very famous poet once said, "It is time for parents to teach young people early on that in diversity there is beauty and there is strength," noted Dr. Pollara as the program came to a close.
Students and parents then headed to the cafeteria to enjoy an international pot luck lunch and enjoy some time with each other.
See all the photos from the Kelly Fifth Grade International Luncheon here.

Hazel fifth grade students sing and wave.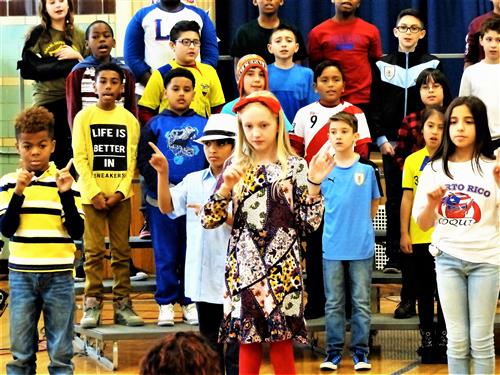 Performing a song in sign language.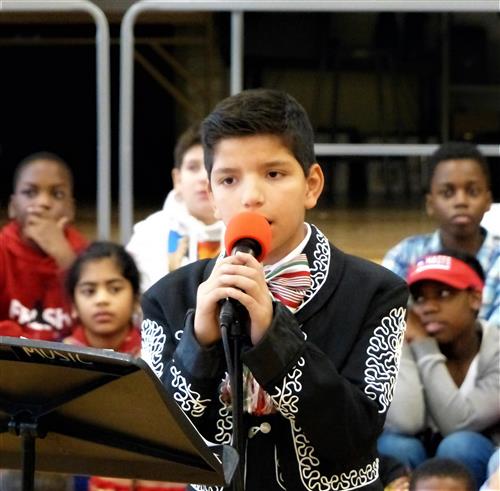 Pablo Araceo sings "Adios Amor."