Return to Headlines
Kelly Elementary School Joins in Annual International "Walk to School Day"
WEST ORANGE. NJ - Kelly Elementary School students, parents, and teachers participated in International Walk to School Day on Oct. 10.
International Walk to School Day is an annual global event involving communities from over 40 countries walking and biking to school on the same day. Begun in 1997, the event has become part of a movement for year-round safe streets with record-breaking participation each October.
Approximately 75 students from Kelly Elementary walked from multiple neighborhood meeting points to school Wednesday along with parents, teachers, the West Orange Police Department, and community leaders. A group of Kelly staff members walked several miles to school, setting a strong example for the students. Walkers were welcomed to school with a walking celebration and group photo.
"Walk to School Day is one of my favorite days of the year," said parent Lori Kapferer, who helped to organize the event and is a member of the West Orange township Pedestrian Safety Advisory Board.
"I love seeing the students, parents, and school staff so excited about walking to school and all of the benefits that come from our morning walk together. Walking to school helps families make connections with each other and our neighbors, explore and make discoveries in our neighborhoods, and start the day active and engaged."
Walk to School Day events raise awareness of the need to create safer routes for walking and bicycling and emphasize the importance of issues such as increasing physical activity among children, pedestrian safety, traffic congestion and concern for the environment. The events build connections between families, schools and the community.
The event was organized by the Kelly PTA through the school's Safe Routes to School Program. Walk to School Day is part of a broad effort by West Orange's Pedestrian Safety Advisory Board to make West Orange roadways safe for all users.
For additional information, please contact Lori Kapferer at 717-380-7312.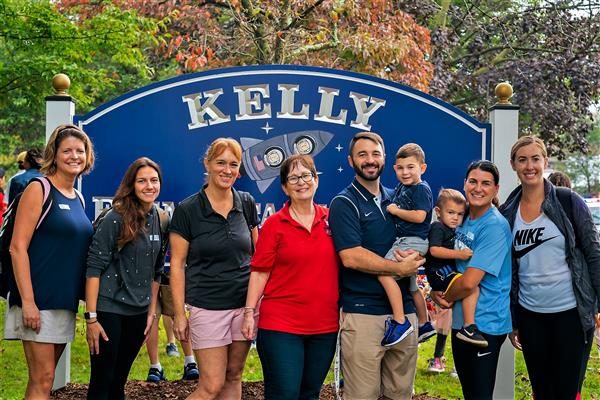 Kelly Principal Dr. Joanne Pollara (in red) with staff members, who all walked to school.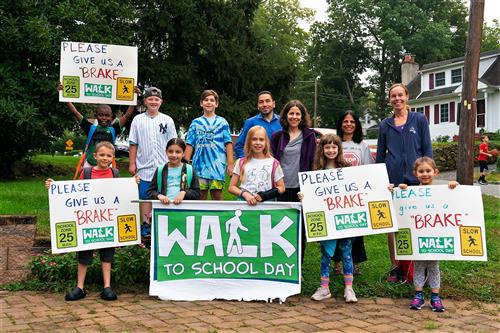 Neighborhood walkers.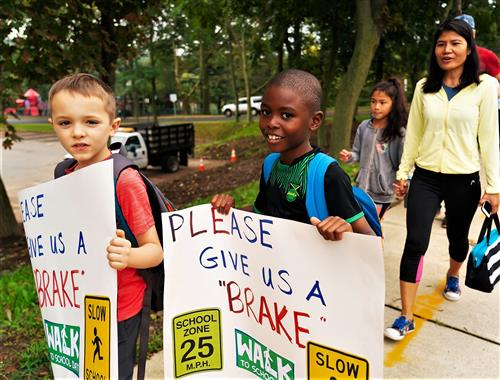 Heading to school.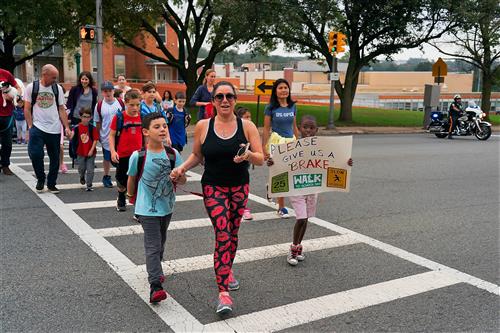 The WOPD is on hand to help.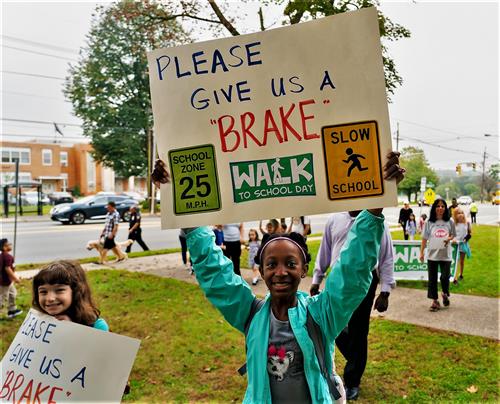 Students carry signs.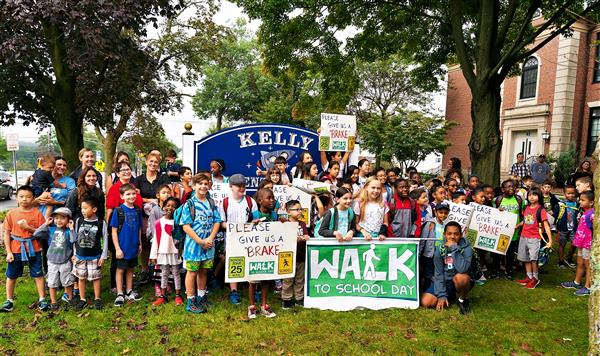 Group photo.
(Photo credits: Krisztina Crane and Alyssa Wicks.)
Cynthia Cumming
Oct. 10, 2018