WEST ORANGE, NJ – Hazel Elementary School welcomed newly-appointed principal William Kochis full-time on Aug. 1 and he will spend the month acclimating himself prior to the start of school on Sept. 6. Interim Principal Heather Carr will remain on board to assist Kochis through August.
Kochis is the former principal of Clifton E. Lawrence Elementary School, part of the Sussex-Wantagh School District. CE Lawrence School contains the Pre-K-2 population in the district and, like Hazel, is a Title I school. (Title I schools receive funding from the federal government to help improve the academic achievement of disadvantaged students. It is part of the Elementary and Secondary Education Act first passed in 1965.)
Title I funding provides Hazel with additional educational resources, a fruit and vegetable daily snack program, and this summer, a grant-funded program entitled the Summer Blended and Personalized Learning Program. 37 students are currently attending the program, which focuses on coding and the use of Chromebooks.
Kochis received his Bachelor's in Sociology and Business from Drew University in Madison and a Master of Arts in Teaching and Educational Leadership from Montclair State University. He taught English Language Arts as an adjunct professor at MSU and taught third, fourth and fifth grades in the Sussex school district.
When asked what he planned to achieve in his first year at Hazel, Kochis said, "This year will be a learning year for me. I will spend a lot of time observing, getting to know the teachers, students and families. Dr. Acevedo (Hazel's former principal) left the school running well."
"Once there have been meetings and discussions about possible changes, we will all work together to achieve them," he went on to say.
Kochis is passionate about several things. The first is technology.
"We will help students become more engaged with the use of Smart Boards and Chromebooks," he noted. "Even though the students will be having fun, they'll be building skills for future jobs by developing their abilities in literacy, math, and problem solving skills while meeting all the core curriculum standards."
He is committed to the integration of STEAM (Science, Technology, Engineering, Arts and Mathematics) components into all facets of student education, enthusing how the summer coding program would culminate in the construction of robots.
Another area of importance to Kochis is reading and writing. "Students should be able to read and to question what they are reading. The new elementary reading and writing workshops will continue to help students achieve that," he commented.
Kochis anticipates that each class at Hazel will contain approximately 17-18 students in the 2016-17 school year, slightly lower than last year.
"My focus is elementary education," said Kochis. "It's important that we have the ability to communicate with our school community of parents and guardians."
Although not bi-lingual like his predecessor Dr. Ed Acevedo, Kochis was confident that bi-lingual communication with Spanish-speaking only parents will continue, along with English classes for parents. All correspondence from the school office will be offered in both English and Spanish and several teachers are bi-lingual.
Kochis' third passion is building school and community relationship.
"I respect the West Orange School district," he commented. "The administrators, teachers, parents and students are wonderful. I will be present in the Hazel community, and I will be accessible."
Kochis lives in Fredon, NJ, with his wife Michelle and two-year-old son Harrison.
Hazel Elementary School is located at 45 Hazel Avenue in West Orange. Principal William Kochis (pronounced 'coach-iss') can by contacted by phone at 973-669-5448 x 22510 or by email at wkochis@westorangeschools.org.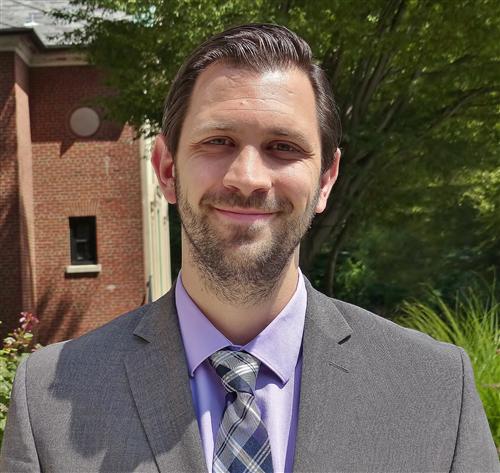 Hazel School's new principal, William Kochis.