WEST ORANGE, NJ – The West Orange High School Marching Band ended a historic season with a Group VA USBands National Championship win on Nov. 6 in Allentown, Pa. The Mountaineers garnered an incredible score of 96.693 and also top honors for best music, best visual, best overall effect, and best percussion.
"Over the course of the season the band was undefeated in their group, and this was the first national championship in the band's history," enthused Band Director Lew Kelly.
The USBands National Championship event was held at the J. Birney Crum Stadium in Allentown, Pa. USBands is the largest marching band competition circuit in the United States. The Mountaineers competed against many of their competitors from the state championship along with out-of-state bands and received one of the highest scores in the two-day competition among all bands and divisions.
"It's an awesome way to have wrapped up my marching band career," said senior Austin Bartola, who is part of the percussion team.
"I am extremely proud of this year's band for the many, many accomplishments we had throughout the season," noted Kelly.
"Every member worked tremendously hard from the summer rehearsals, through band camp and all the way to championships and the results speak for themselves. The student leaders provided tremendous leadership and spirit all season. A very special thank you to all staff, parents, and administration for all of their support. Congratulations to this year's seniors for four years of Pride, Dedication, and Excellence!" Kelly concluded.
To see a video of the Mountaineers' championship performance, see below.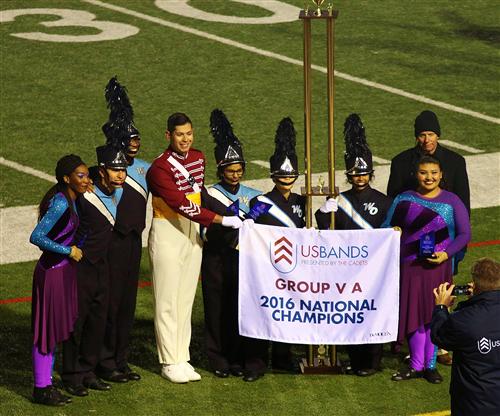 The Mountaineers win the Group VA National Championship. (Photo by Mary-Lauri Bartola.)
Video credit: Nick Bartola