WEST ORANGE, NJ – Bianca Trinidad was named the winner of the Eleventh Annual Poetry Out Loud Competition held at West Orange High School Jan. 4, and Elijah Chilton was named runner-up, with only two points separating the two seniors.
Trinidad recited "I Felt a Funeral in My Brain," by Emily Dickinson and "Dear Reader," by Rita Mae Reese, to capture the win.
Chilton recited "To Elsie," by William Carlos Williams and "Mezzo Cammin," by Henry Wadsworth Longfellow. Chilton was last year's Poetry Out Loud winner.
The vision of Poetry Out Loud is described as "a contest that encourages the nation's youth to learn about great poetry through memorization and recitation. This program helps students master public speaking skills, build self-confidence, and learn about their literary heritage." The program was emceed by Escriptus advisors and English Language Arts teachers Molly Wachtel and Mindy Harvat.
The National Endowment for the Arts and the Poetry Foundation partner with U.S. state arts agencies to support Poetry Out Loud, which is organized into local, regional, state and national competitions.
Trinidad will represent West Orange High School at the regional competition to be held at South Orange Performing Arts Center (SOPAC) on Feb. 8.
114 West Orange High School students participated in the process to determine the finalists in the competition. Each finalist had to memorize two poems, one a pre-20th-century work and the other fewer than 25 lines.
Judges scored the finalists on several criteria, including accuracy of memorization, physical presence, voice and articulation, dramatic appropriateness, evidence of understanding and overall performance.
This year's finalists were:
Ninth Grade:
Rachel Favetta
Darlene Folas
Ashlea Hume
Izzy Soto, Jr.
Tenth Grade:
Orianna Carter
Daniella Rodriguez
Eleventh Grade:
Anna Favetta
Juaquin Goodbar
Twelfth Grade:
Sophia Adelson
Elijah Chilton
Janiya Peters
Bianca Trinidad
Professor David Borkowski, William Paterson University English professor, Michelle Martino, Asst. Principal at Liberty Middle School, Elizabeth Veneziano, 6-12 ELA Supervisor, Tynia Thomassie, former Escriptus advisor and Technology Integration Specialist, and Amber McCleese, 2015 WOHS Poetry Out Loud winner served as judges for the 2017 Poetry Out Loud Competition.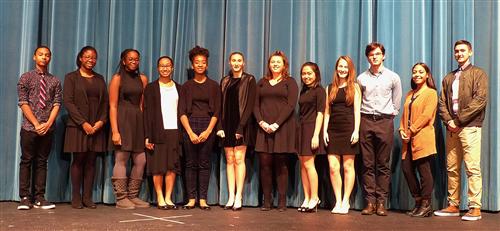 2017 Poetry Out Loud contestant.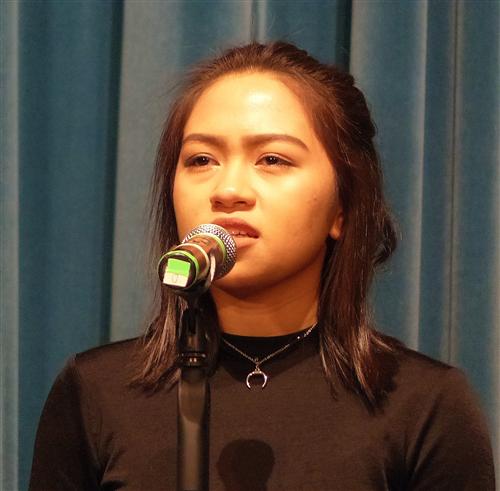 Winner Bianca Trinidad.
Runner-up Elijah Chilton.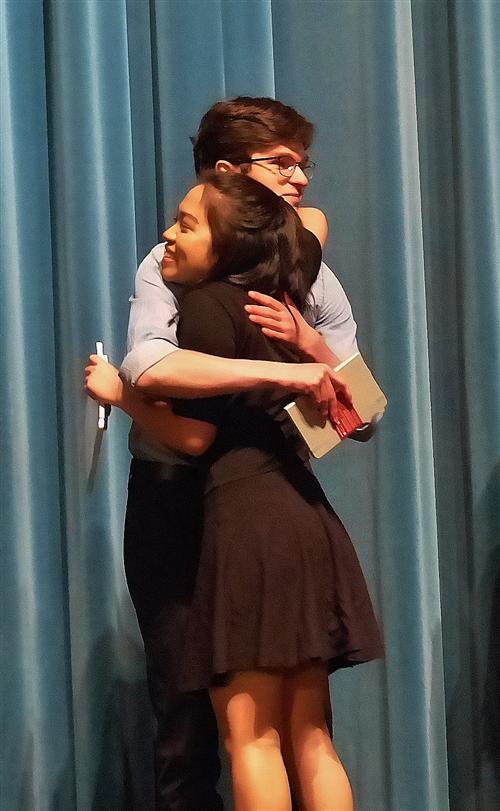 Trinidad is named the winner.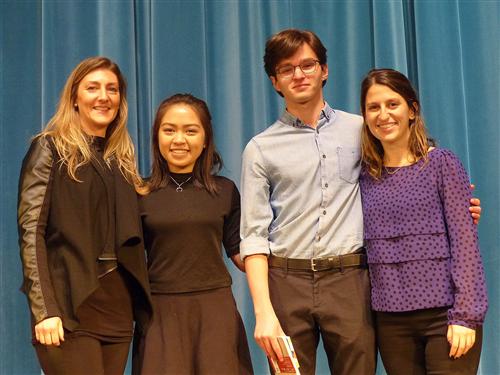 Mindy Horvat, Bianca Trinidad, Elijah Chilton and Molly Wachtel.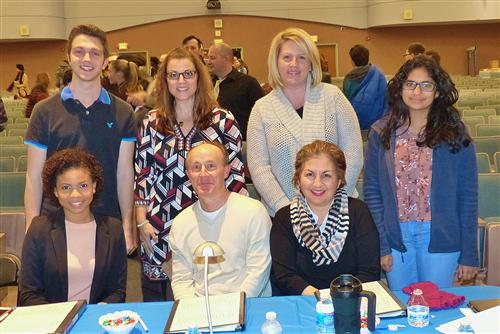 Judges Front Row (L-R) Amber McCleese, David Borkowski, Tynia Thomassie.
Rear (L-R) Senior Austin Bartola, Michelle Martino, Liz Veneziano, senior Anusha Sivendra.