WEST ORANGE, NJ – West Orange Mayor Robert Parisi made a special appearance at Redwood Elementary on Oct. 28 to teach fifth-grade students about the electoral process and conduct a mock election to view it in action.
The mayor began his visit by describing the democratic process, noting that "the peaceful exchange of power" has been utilized following every presidential election. He went on to note that freedom of speech allows people the right to run and stand up for what they believe. The process also allows for others to question it. To show the process in action, an election to decide the "best snack" was held.
Parisi introduced three fifth-grade students, each running to have their favorite snack voted the winner. Amie Binan represented Oreo cookies, Tanner Joroff, carrots and Amaya Field, Twizzlers. "Candidates" made opening statements, debated the pros and cons, and took questions from the "voters" before voting.
"Remember, you only get one vote. Make a decision and live with it…the winner is the one with the most votes," noted Parisi.
The Oreo cookie was the clear winner with 49 votes; carrots came in at second with 32, and Twizzlers took third with nine. Everyone got an Oreo following the election to underscore the process.
"You can still like carrots, but you're getting an Oreo," smiled the mayor.
Parisi wrapped up his visit by encouraging students to research and look into candidates and issues to decide where they stand, telling them to make sure they are getting solid and factual information.
"Dig a little deeper to see who most represents your beliefs," concluded Parisi. "It may not be 100 percent, but vote for who you think would be best for everyone."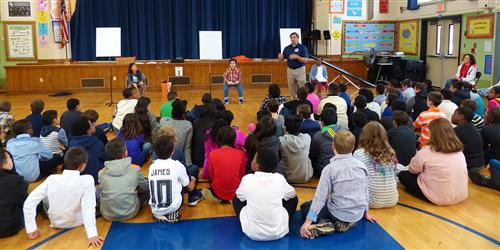 Mayor Parisi teaches students about democracy.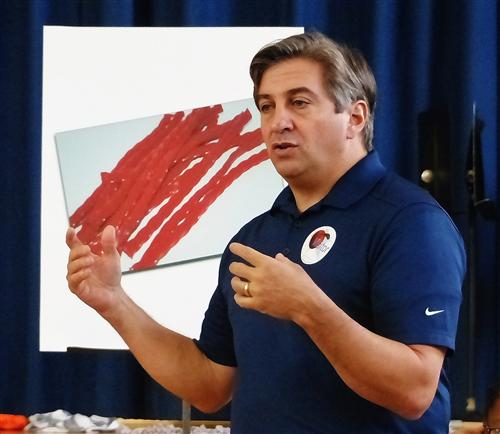 Amie and Oreos.
Tanner and carrots.
Amaya and Twizzlers.
Mayor answers questions.