WEST ORANGE, NJ – The West Orange Cub Scouts Pack 10 and Boys Scouts Troop 2 cut the ribbon on the first in a series of "Little Free Library" houses on June 29 at Degnan Park, and the community was on hand to celebrate.
"Little Free Libraries" began in 2009 in Hudson, Wisconsin, as a tribute to Todd Bol's mother, a book lover and schoolteacher. Bol mounted a wooden container made to look like an old schoolhouse on his lawn and filled it with books. The idea became so popular that Bol and partner Rick Brooks formed a non-profit to help others create or purchase their own library. "Little Free Libraries" can be found in all fifty states and even worldwide. Once registered, the libraries can be tracked with GPS coordinates.
The West Orange "Little Free Library" first took shape in October, 2015, when several members of the Pack 10 Cub Scouts at Redwood School purposed to earn the Craftsman badge as Cub Scouts Webelos II. In addition to earning their badges, the boys wanted to create something that would also benefit the community. With the help of parent Jackie Bazan-Ross, a program was created that paired the boys with craftsmen mentors to achieve their goal.
"We are constantly reinforcing the importance of good citizenship and what we as individuals and a group can do to make our community and the world a better place," said Bazan-Ross.
"This project, which supports literacy and reading, absolutely fit the bill. We designed it as a donation to our community that would serve all ages and be a lasting reminder of our ability to make a difference," she continued.
Several craftsmen from the West Orange community responded to the Cub Scouts' request for help, including West Orange police officer John Fabula (who suggested the "Little Free Library" project), WOHS woodworking and tech teacher Max Grossman, and Dana Hagstrom. Craftsmen Gil Malave and Margo Dudley also joined the mentoring team, who generously gave of their time over several meeting dates to help the boys complete the project.
Redwood Elementary School teacher Paul Stefanelli, Mayor Rob Parisi, and Assistant Superintendent of Public Works Nick Salese also helped to make the project a reality. The Home Depot and the Sherwin-Williams Company donated the materials and supplies needed to complete the work. The five boys who participated in the project graduated in June from Redwood.
"The libraries appeal to adults as well as children," said Salese, who ensured that the boxes were watertight and secured properly into the ground.
In addition to the inaugural "Little Free Library" at Degnan Park, additional libraries will be installed at Redwood Elementary School, the West Orange Community House, the Ginny Duenkel Pool, and O'Connor Park.
In March, the Pack 10 Cub Scouts moved up to Boy Scouts Troop 2, which includes boys from both Redwood and Kelly Elementary Schools.
Find out more about the "Little Free Library" organization at littlefreelibrary.org.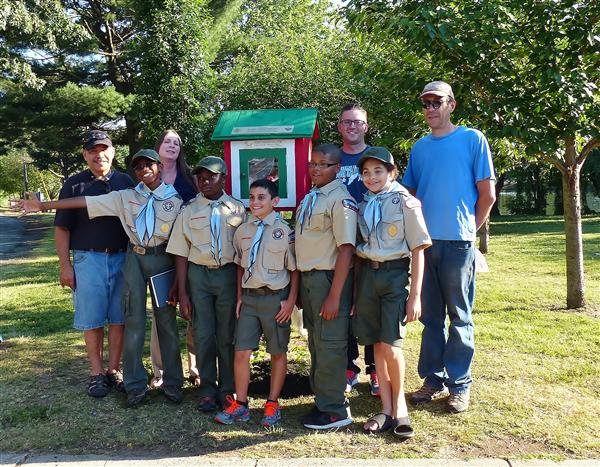 Mentors Gil Malave and Margo Dudley, scouts Harold A. Ross Jr., Seun Ogun, Peter Teixeira, Mekhi Graves, and Kyle Bullard, mentors John Fabula and Dana Hagstrom. The five boys who participated in the project are former Redwood students. The Degnan Little Free Library was built by Seun Ogun and Margo Dudley.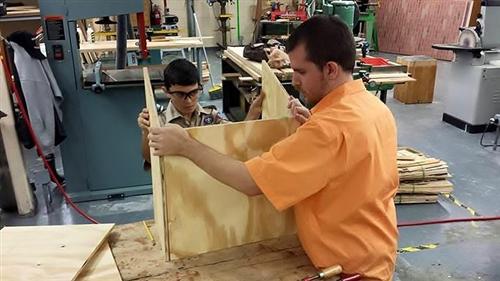 Scout Peter Teixera and mentor Max Grossman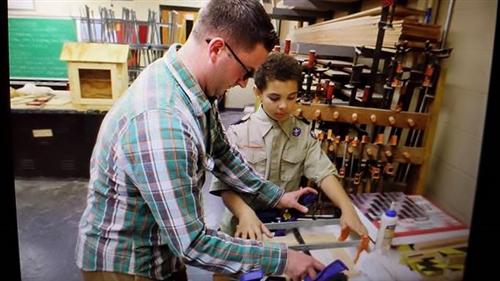 Scout Kyle Bullard and mentor John Fabula
Members of Cub Scout Pack 10 and Boy Scout Troop 2.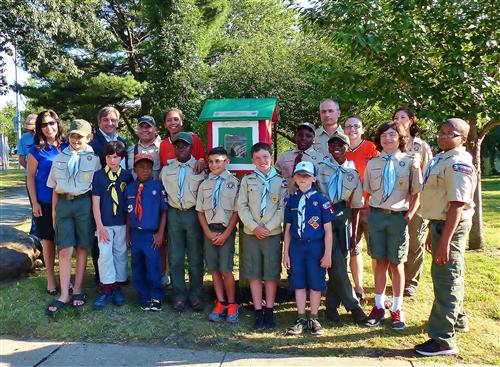 Councilwoman Michele Casalino, Mayor Rob Parisi, Cub Scouts Pack 10 Scoutmaster Peter Teixeira, Jackie Bazan-Ross, Craig Brown, Sandy Layton, and Nikki Devita.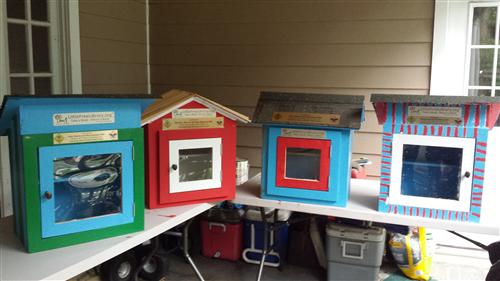 Libraries heading to: the Community House (Peter Teixera), Redwood Elementary (Harold Ross), the Ginny Duenkel Pool (Kyle Bullard), O'Connor Park (Mekhi Graves).